The Economic Growth Connection of Westmoreland (EGC)
is a private, 501(c)(3) non-profit economic development corporation formed in January 2000. Memberships and contributions are deductible to the fullest extent of the law. The EGC is membership based and governed by a board of directors.
The Economic Growth Connection works in cooperation with governmental agencies, chambers of commerce and financial institutions to support emerging and expanding companies in Westmoreland County. It offers assistance to companies considering a location in our region.
Operating on a strategic plan, the Economic Growth Connection supplies the following services for Westmoreland County:
Business Outreach and Development
Loan Financing
Work-Force Development and Training Facilitation
Site and Building Assistance
Transportation Initiatives
Entrepreneurial Assistance
The Economic Growth Connection provides leadership to the private sector to develop business opportunities. The end result is quality jobs created and retained in Westmoreland County and the region.
Our Mission & Vision
The Economic Growth Connection of Westmoreland is a private non-profit membership based organization created to foster economic growth and development in Westmoreland County. Governed by a board of directors, our objective is to raise the standard of living through sustainable high quality job creation and retention.
2017 EGC Annual Report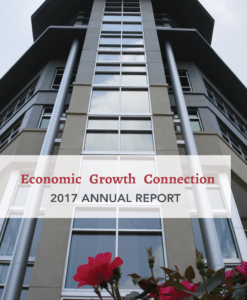 ---
Latest News and Events
Economic Growth Connection has announced that the interest rate on PIDA loans for the 1st Quarter 2019 has been reduced for all loans. Click here to view the current rates: http://bit.ly/2C0xvew Please contact EGC Business Development Officer Greg Daigle at (724) 830-3604 or gdaigle@egcw.org for more details.
---
Grant funding for energy efficiency and pollution prevention projects for small business owners and farmers is still available from the Pennsylvania Department of Environmental Protection (DEP) through the Small Business Advantage Grant program. Pennsylvania-based small business owners with 100 or fewer full-time employees are eligible for the
---
Please join the EGC in honoring Tenaska, Municipal Authority of Westmoreland County, and Bruce Corna, Vice President of KACIN Companies. Monday, November 5, 2018 NEW LOCATION: The Palace Theatre View more information including sponsorship and ticket options here.
---
The Pennsylvania Dairy Investment Program was established under Act 42 of 2018 for research and development, organic transition, value-added processing, and marketing grants in support of Pennsylvania's Dairy Industry. The program is administered jointly by the Department of Community and Economic Development (DCED) and the PA Department
---
The EGC is the financial administrator of the West Penn Power Sustainable Energy Fund which recently awarded of $75,000 grant to Penn State New Kensington. The grant will aid Penn State New Kensington in incorporating sustainability and best practices to the Corridor of Innovation and revitalization efforts
---