The Economic Growth Connection of Westmoreland (EGC)
is a private, 501(c)(3) non-profit economic development corporation formed in January 2000. Memberships and contributions are deductible to the fullest extent of the law. The EGC is membership based and governed by a board of directors.
The Economic Growth Connection works in cooperation with governmental agencies, chambers of commerce and financial institutions to support emerging and expanding companies in Westmoreland County. It offers assistance to companies considering a location in our region.
Operating on a strategic plan, the Economic Growth Connection supplies the following services for Westmoreland County:
Business Outreach and Development
Loan Financing
Work-Force Development and Training Facilitation
Site and Building Assistance
Transportation Initiatives
Entrepreneurial Assistance
The Economic Growth Connection provides leadership to the private sector to develop business opportunities. The end result is quality jobs created and retained in Westmoreland County and the region.
Our Mission & Vision
The Economic Growth Connection of Westmoreland is a private non-profit membership based organization created to foster economic growth and development in Westmoreland County. Governed by a board of directors, our objective is to raise the standard of living through sustainable high quality job creation and retention.
2017 EGC Annual Report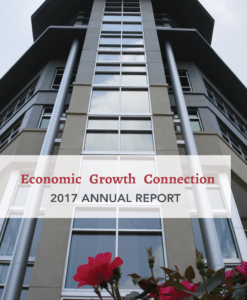 ---
Latest News and Events
UPDATE! The program begins promptly at 11:30 am. Join the EGC as we welcome special guest, Senator Pat Toomey, to the Annual Membership Luncheon. Sen. Toomey will give a D.C. update and attendees will be invited to participate in a Q&A session. Following the Q&A,  John Sphon, CEO
---
Economic Growth Connection has announced that the interest rate on Pennsylvania Industrial Development Authority (PIDA) loans for the 1st Quarter of 2020. Click here for current rates. Please contact EGC Business Development Officer Kyle Martin or Jim Smith at (724) 830-3604, or kmartin@egcw.org, jsmith@egcw.org for more details.
---
Join the EGC in honoring retiring Westmoreland County Commissioner Charles Anderson, and Mona Pappafava-Ray, President and CEO of General Carbide. Where: The Palace Theatre, Greensburg When: 5:30 p.m. Awards Reception, Networking, Hors D'oeuvres, Open Bar, Dessert Table, Musical Entertainment RSVP by Tuesday, October 8, 2019 You can
---
Governor Tom Wolf announced a new low-interest loan approval through the Pennsylvania Industrial Development Authority (PIDA) program for a business project in Westmoreland County that will help create and retain approximately 45 jobs statewide. The loan funding will assist the business with the costs of expanding their
---
The interest rate for the West Penn Power Sustainable Energy Fund Act 129 Energy Micro Loan Program has been reduced to 2%. View the Quick Facts here. Contact the EGC today to see if your project is eligible
---