The Economic Growth Connection of Westmoreland (EGC)
is a private, 501(c)(3) non-profit economic development corporation formed in January 2000. Memberships and contributions are deductible to the fullest extent of the law. The EGC is membership based and governed by a board of directors.
The Economic Growth Connection works in cooperation with governmental agencies, chambers of commerce and financial institutions to support emerging and expanding companies in Westmoreland County. It offers assistance to companies considering a location in our region.
Operating on a strategic plan, the Economic Growth Connection supplies the following services for Westmoreland County:
Business Outreach and Development
Loan Financing
Work-Force Development and Training Facilitation
Site and Building Assistance
Transportation Initiatives
Entrepreneurial Assistance
The Economic Growth Connection provides leadership to the private sector to develop business opportunities. The end result is quality jobs created and retained in Westmoreland County and the region.
Our Mission & Vision
The Economic Growth Connection of Westmoreland is a private non-profit membership based organization created to foster economic growth and development in Westmoreland County. Governed by a board of directors, our objective is to raise the standard of living through sustainable high quality job creation and retention.
2017 EGC Annual Report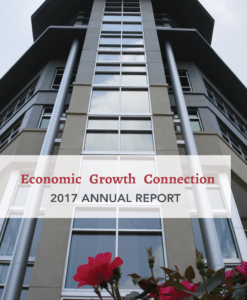 ---
Latest News and Events
"Our stance is a recession is perhaps two years away. The U.S. economic expansion continues to about 2021," Daniel Crawford, managing director and chief investment officer of First National Bank Wealth Management, told about 200 business and community leaders last week at the Economic Growth Connection of
---
New Low Rates for Businesses Through Mar. 31 The Pennsylvania Industrial Development Authority (PIDA) provides low-interest loans and lines of credit through certified economic development organizations (CEDOs) for eligible businesses that commit to creating and/or retaining jobs, as well as for the development of industrial parks and
---
Governor Tom Wolf joined Secretary of Education Pedro A. Rivera and educational leaders from across the commonwealth today to recognize Dr. Gennaro R. Piraino, Jr., Superintendent of the Franklin Regional School District, as the 2019 Pennsylvania Superintendent of the Year. We are proud to have Dr. Piraino
---
Grant funding for energy efficiency and pollution prevention projects for small business owners and farmers is still available from the Pennsylvania Department of Environmental Protection (DEP) through the Small Business Advantage Grant program. Pennsylvania-based small business owners with 100 or fewer full-time employees are eligible for the
---
Please join the EGC in honoring Tenaska, Municipal Authority of Westmoreland County, and Bruce Corna, Vice President of KACIN Companies. Monday, November 5, 2018 NEW LOCATION: The Palace Theatre View more information including sponsorship and ticket options here.
---