What you need to know about Pennsylvania's $200 million Coronavirus Small Business Grants Program
We have more details on the new state grant program that will provide $200 million in funding to small businesses impacted by COVID-19. But first, a quick request: Please spread the word among your small-business associates and friends. We want to ensure that the Westmoreland economy receives its fair share of this CARES Act-funded stimulus, and it's possible that some of our Main Street business owners are so focused on adapting to challenges that they otherwise might not learn of this program.
Now, on to what you need to know:
· There is $200 million in grant money available for small businesses that experienced loss as a result of the governor's order relating to the closure of all non-life-sustaining businesses and have — or will — incur costs to adapt to new business operations related to COVID-19.
· Half of that funding is for the Main Street Revitalization Program, and half is set aside for the Historically Disadvantaged Business Revitalization Program.
· Grant awards will range from $5,000 to $50,000.
· The state Department of Community and Economic Development has tapped a network of community development finance institutions (CDFIs) to manage the program.
· There are four CDFIs serving Western Pennsylvania. They are:
· The Progress Fund
· Bridgeway Capital
· Northside Community Development Fund
· The Reinvestment Fund
· Grants will NOT be awarded on a first-come, first-served basis.
· There will be multiple rounds of application windows, with each window lasting 10 business days.
· The first window for applications is expected to open at 9 a.m. on June 30. It will close July 14.
· The application process will be conducted entirely online.
· Businesses will have to submit digital scans of the required documents.
· Business owners will be able to access the portal through the websites of the four CDFIs that are managing the program for our region.
· Because there are only four CDFI's serving 33 counties in Western PA, we recommend that business owners not delay in applying.
Eligibility
To be eligible, a business must:
· be physically located, certified to do business and generate at least 51 percent of its revenues in Pennsylvania;
· have annual revenue of $1 million or less prior to the pandemic's impact;
· have had fewer than 25 full-time equivalent employees prior to Feb. 15, 2020.
· be current on all federal and state taxes.
Grant Tiers
A business's annual revenue (as documented on its most recent tax return) will determine the size of the grant for which it is eligible. Here are the grant tiers: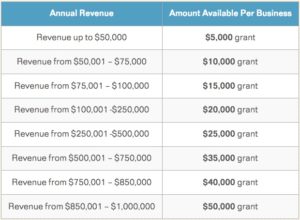 How Applications Will Be Evaluated
Small businesses that meet any of the following criteria will be given priority when the applications are evaluated:
· are owned and operated by low- and moderate-income people,
· are located in areas of need — including areas with a population having incomes significantly below the median income level, high levels of poverty, higher-than-average unemployment rates, or significant population loss;
· are types of businesses that were most impacted by the economic shutdown and experienced the greatest revenue losses.
In addition, the program will give additional consideration to the following factors:
· women-owned businesses,
· communities that have been targeted for business investment by state government programs like Main Street and Elm Street, and
· rural communities.
Also, the program will ensure that grant funds are awarded to small businesses located across the Commonwealth of Pennsylvania.
Historically Disadvantaged Businesses
At least 50 percent of the grants will be awarded to historically disadvantaged businesses. Historically disadvantaged businesses are those that are at least 51-percent owned and operated by people who are Black, Hispanic, Native American, Asian American or Pacific Islander because they have traditionally been discriminated against and disadvantaged when seeking financial services and financial products.
Before you apply
Eligible businesses are encouraged to gather and scan the items that will be necessary to apply. At a minimum, the following list of items will be needed to apply. Additional items may be specified later:
· Government-issued photo ID, such as a driver's license or passport
· Business financial information:
· Revenue from March 1 to May 31 for both 2019 and 2020
· Most recent federal tax return — 2018 or 2019 business and personal tax returns, including Schedule C
· If the business was in the startup phase between Jan.1 and Feb.15, 2020 — internal profit and loss statement
· Proof of business registration with the Pennsylvania Department of State, as applicable:
· Articles of incorporation (for corporations and LLCs); or
· Fictitious name registration / "Doing Business As" (sole proprietors); or
· Business license (if applicable)
· Bank account information to receive an ACH directly to your account
Which Businesses Are Not Eligible
We know that the following entities are not eligible for this program. It is possible that others will be added to this list before the program goes live.
· Businesses that are not physically based in Pennsylvania
· Businesses that are in active default (not on a payment plan) with taxes or fees owed to the commonwealth
· Nonprofits, churches and other religious institutions
· Financial businesses primarily engaged in the business of lending — such as banks and finance companies
· Real-estate development or rental-property businesses
· Life-insurance companies
· Private clubs and businesses that limit the number of memberships for reasons other than capacity
· Government-owned entities or elected official offices
· Businesses primarily engaged in political or lobbying activities
· Businesses engaged in any illegal activity, socially undesirable or those that may be considered predatory in nature — such as pawnshops, rent-to-own, check-cashing businesses and adult bookstores
· An owner of 20 percent or more of the equity of the applicant is incarcerated, on probation, on parole; presently subject to an indictment, criminal information, arraignment, or other means by which formal criminal charges are brought in any jurisdiction; or has been convicted of a felony involving fraud, bribery, embezzlement, or a false statement in a loan application or an application for federal financial assistance within the last five years or any other felony within the last year